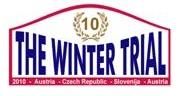 da 30 Gennaio a 4 Febbraio 2022
The Winter Trial
Luogo: Austrian Alps - Austria
Sito internet:
www.thetrial.nl
Back to basic
In 2022 The Winter Trial is entering the third decade of its rallylife. And just like good wine, we think it is aging pretty well. While there are some changes in the organization team this year, the rally will keeps its DNA and will even go back to its roots a little.
What is The Winter Trial?
The Winter Trial is a six day regularity rally for classic cars which takes place in the winter.
It is an experience driving on snowy roads through rough landscapes whilst navigation your way and try to stay as close as possible to the set times. The teams will drive approximately 350 km per day, and the experienced teams also drive two night loops of an additional 150 km per night.
What can you expect?
Start – 30 January 2022
Finish – 4 February 2022
Cars – Classic cars build before 1986
Length – approx. 2.500 km
Navigation type – Basic map reading & tulips
Competition – Regularity's, driving tests
History
The first ever Winter Trial was organized in 2001. This event was won by Roger Byford and Willy Cave, driving a MGB. This first edition went from The Netherlands southwards through the Alps to finish in Monte-Carlo. Since then we visited all countries in Europe where there is a reasonable snow expectation. Last year The Winter Trail started in Prague and after a complete tour through the Czech Republic the winners were crowned in St. Wolfgang (Austria). For the second year in a row the first price was claimed by Hank and Nicole Melse.
Edition 2022
Because of the unfortunate situation of the world over the past 1,5 years there have been a few changes to the locations and route from our original plan for the 2021 edition.
Timo and the new Chief Marshal, Bennie Roetgerink, have checked the route during the first week of September and have had to make many unfortunate changes to the original route. All for the better of the event naturally. Some of the planned locations did not survive the crisis but we managed to replace them with equally good ones for you all to enjoy!
What is new for 2022?
The route instruction will be more basic.
We will stay in 1 hotel for 2 nights.
Your Rally Passes and luggage service are included in the entry fee.
Test penalties have been revised so that small errors have smaller impact.
I am new to the Winter Trial, is that a problem?
That definitely is not a problem. In December 2021 we will organize an afternoon for the new comers to teach you the tips and tricks.
Who can compete?
If you have a valid driving license and common sense, good humor and an interest in having fun and a classic car than you can enter!
What type of car is eligible?
There will be two categories: Vintage cars of a type in production before the end of 1948, and Classic cars of a type in production before the end of 1990. Whichever type you decide to bring is completely free. However, it should be safe and reliable, have a fuel range of at least 300 km, and be fitted with an accurate tripmeter.
What class should I enter?
We have two classes: The Challenge Class drives the full daytime route but does not drive the evening loops. They spend more time in the bar and have lots of fun.
The Trial Class is much more competitive. You need a more experienced navigator and be willing to drive two evening loops of about 3 hours each.
Do I need a competition license?
Yes you do, but if you do not have a valid one we will provide a KNAF rally pass at signing on.
Do I need to be a professional rally driver/navigator?
This is not a speed event but a road rally, run within normal traffic rules. You do not need helmets or fireproof overalls. Above all, the event is intended to be friendly and fun; with time to socialize with your fellow participants and enjoy the scenery.
What does the entry fee include?
You are guaranteed 6 days of wonderful driving roads with hopefully a lot of snow. The Route Book will provide all you need to complete the route and plot it onto your own maps.
Accommodation and all meals are included, from the Welcome Dinner the evening before the start to the Prize Giving Dinner at the finish. Every crew completing the rally will receive finisher's awards, and overall and class winners will also be presented with trophies. Dedicated parking, metal rally plates and number roundels will also be provided. A team of marshals and mechanics will tag along to ensure the most smiles per mile and make sure we will all reach the finish line.
Not included in the entry fee is your bar bill, fuel, vehicle insurance and car shipping to the start and from the finish back home.
Entry fee
A deposit of €1.500 will secure your entry on the event. A balance of €4.490 is then payable before 1 June 2021.
Entrée fee if fully paid before October 1 2021 € 6.390
Entrée fee if fully paid after October 1 2021 € 6.690
Please contact the Rally Office for more information.
By filling out the entry form and submitting your entry to the rally office you agree to the terms as stated in our event regulations.