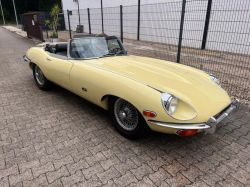 E TYPE II SERIE SPIDER JAGUAR (GB)
Anno:
1971
Prezzo:
€ 49900
Inserito il:
23/3/2023
Email:
info.jag.de@gmail.com
Città:
Brüggen
Contattare:
Dahlen
info.jag.de@gmail.com
We are delighted to offer for sale a truly exceptional and exquisite collector's car.
A beautiful Jaguar E-Type V6 convertible is offered here in absolute best and original condition with the following equipment:
Left-hand drive, glazing free of cracks and breakage, chrome parts original and without damage, petrol engine, convertible, 2-door, 126kW, 4198ccm, leather interior in black, armrest in leather (black)
- DEKRA CERTIFICATE AVAILABLE!
- VEHICLE VERY GOOD CONDITION!
- ORIGINAL STATE !
- Invoice >20000€ from the last 2 years from a specialist German workshop!
A full service book available, all inspections done and a valid German TÃœV which means the car has German papers/registration and ready to drive.
The car is being sold on behalf of the owner.
As a special service of our car dealership, we can create a meaningful video of the vehicle for you on request.
A viewing/testing is possible with a prior appointment. Delivery by arrangement or by forwarding agency possible.
A promotional package has been paid for the advertisement of this vehicle on all specialized websites and magazines. Therefore, we reserve the right to sell the aforementioned vehicle prior to the expiration of the advertisement announcement.