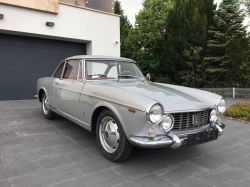 1600 S COUP╔ FIAT (I)
Anno:
1964
Prezzo:
€ 25000
Inserito il:
25/5/2021
Email:
olsipro2002@magenta.de
CittÓ:
Berlin
Contattare:
01521 4973611
olsipro2002@magenta.de
For sale is a beautiful and very rare Fiat 1600S "OSCA" CoupŔ from Pininfarina in silver gray.
There are different statements about the production figures. Lt. Dante Giacosa, the then chief designer at Fiat, only about 300 pieces of the 1600S CoupŔ with the sporty 90 HP "OSCA" engine were built at Pininfarina.
According to research by the English motor journalist Graham Robson, a total of 814 units were built. The previous 1500S model may also be included in this number.
Lt. According to the "Centro Archivo Storico" (FCA) from 03.08.2019, this vehicle with the chassis number (Telaio) was completed on 05.10.1963 at Pininfarina in Turin.
In the present original "Carta Di Circolazione", the first registration in 1964 is registered under the registration number BO-206808, Signore Mario B. from Bologna.
The complete history of this vehicle can be traced back to the present day on the basis of the documents.
In 2004, exactly this OSCA was prominently presented in the still popular English glossy magazine ôAuto italiaö with a four-page photo story. The magazine is in the original.
This vehicle is an older restoration. The paintwork is in perfect condition, as is the interior. The engine starts without any problems at any temperature, sounds and runs fantastic.
Needless to say, the car was only moved when the weather was nice.
In 2020 a new set of tires, "Vredestein Sprint Classic", was fitted.
The vehicle has a German H approval.