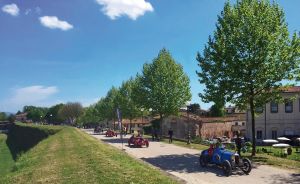 Iscrizione rapida Garedepoca
from 15 to 18 April 2021
Terre di Canossa International Classic Cars Challenge
Location: Emilia, Motor Valley, Liguria, Toscana - Italy
Website:
www.granpremioterredicanossa.it/
Al termine delle iscrizioni
Dal 15 al 18 ottobre 2021
XI Edizione dal 15 al 18 Aprile!
La prossima edizione del Terre di Canossa si svolgerà tra il 15 e il 18 aprile 2021 e si snoderà su un
percorso sarà nei luoghi che furono parte del regno di Matilde di Canossa nel XII Secolo.
La gara partirà da Salsomaggiore Terme con la serata di gala presso l'affascinante Palazzo dei
Congressi di Salsomaggiore, all'interno del fastoso Salone Moresco.
Venerdì attraverseremo gli Appennini per raggiungere le Cinque Terre e il meraviglioso borgo di
Portovenere e il Golfo dei Poeti, per poi concludere la giornata in Versilia.
Il Sabato ci dirigeremo verso alcune delle più belle città d'arte e dei più caratteristici borghi della
Toscana. Ci si dirigerà poi verso il Circuito del Montenero, che ospitò il Gran Premio d'Italia nel
1937 e su uno dei tratti più spettacolari della Via Aurelia, reso famoso da Vittorio Gassman alla
guida della sua Lancia Aurelia B24 nel grande film Il Sorpasso.
Domenica attraverseremo nuovamente gli Appennini per tagliare il traguardo come di consueto a
Reggio Emilia.
Terre di Canossa sarà ancora una volta un emozionante percorso enogastronomico tra le ricette
della tradizione e la creatività dei migliori chef stellati, che culminerà con l'immancabile beach
party a Forte dei Marmi.
Non perdere l'opportunità di vivere questa edizione unica!
April, 15 th -18 th - The 11 th edition!
The new edition of Terre di Canossa will take place in April, from 15 th to 18 th 2021 and the rout will
run across the territories that once belonged to Matilda of Canossa when she ruled over central
Italy during the 13 th century.
The rally will start in Salsomaggiore Terme, near Parma, with the opening soiree in the fascinating
Palazzo dei Congressi di Salsomaggiore, inside the magnificent Salone Moresco.
On Friday we will cross the Apennines to reach Cinque Terre and the beautiful village of
Portovenere and as well Golfo dei Poeti; as usual the day will end in Versilia.
On Saturday participants will head towards some of the most beautiful art cities and most
characteristic villages of Tuscany. We will also move towards the roads of Circuito del Montenero,
that hosted the Italian Grand Prix in 1937 and we will also drive on one of the most picturesque
spots of the Aurelia consular road, made famous by Vittorio Gassman driving his Lancia Aurelia
B24 and constantly attempting "Il Sorpasso" (The overtaking) in the 1962 Italian cult movie.
Sunday we will cross the Apennines again to reach the finish line as usual in Reggio Emilia.
Terre di Canossa will be once again an exciting culinary itinerary combining traditional recipes and
the creativity of award-winning chefs, that will culminate with the unmissable beach party in Forte
dei Marmi.
Don't miss the opportunity to live this unique edition!
Register now!