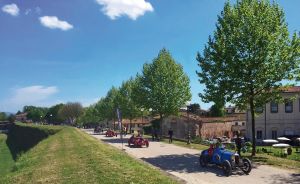 Iscrizione rapida Garedepoca
from 1 to 4 October 2020
Terre di Canossa International Classic Cars Challenge
Location: Emilia, Motor Valley, Liguria, Toscana - Italy
Website:
www.granpremioterredicanossa.it/
Al termine delle iscrizioni
X Edizione dal 16 al 19 Aprile!
Quasi non riusciamo a credere che siano passati 10 anni dal primo annuncio... per questo oggi
siamo così felici di annunciare la decima edizione del Terre di Canossa!
La prossima edizione sarà un pellegrinaggio in diversi luoghi medievali che furono parte del regno
di Matilde di Canossa nel XII Secolo.
La gara partirà da Salsomaggiore Terme con la serata di gala nel Castello di Tabiano, costruito dalla
famiglia Pallavicino nel X Secolo.
Venerdì attraverseremo gli Appennini per raggiungere le Cinque Terre e il meraviglioso borgo
marinaro di Lerici, fino a concludere la giornata come di consueto a Forte dei Marmi.
Il Sabato ci dirigeremo verso il Circuito del Montenero, che ospitò il Gran Premio d'Italia nel 1937.
Il percorso passerà anche per uno dei tratti più spettacolari della Via Aurelia, reso famoso da
Vittorio Gassman alla guida della sua Lancia Aurelia B24 nel grande film Il Sorpasso.
Domenica attraverseremo nuovamente gli Appennini per tagliare il traguardo a Quattro Castella
presso il Castello di Bianello, dove il 28 Febbraio del 1077 l'Imperatore Enrico IV incontrò Papa
Gregorio VII per chiedere il suo perdono.
Terre di Canossa sarà ancora una volta un emozionante percorso enogastronomico tra le ricette
della tradizione e la creatività dei migliori chef stellati, che culminerà con l'immancabile beach
party a Forte dei Marmi.
Non perdere l'opportunità di vivere questa edizione unica!
April 16-19 - The 10th edition!
We can hardly believe that ten years have gone since the first announcement of our rally, so today
we are extremely happy to announce the 10th edition of Terre di Canossa!
Next year's rally will be a pilgrimage to many medieval sites dating back to the XII century, when
Matilde di Canossa was ruling over central Italy.
The rally will start in Salsomaggiore Terme, near Parma, with the opening soiree in the medieval
castle of Tabiano, built by the Pallavicino family in the X Century.
On Friday we'll cross the Apennines to reach the UNESCO world heritage site of the Cinque Terre
and the beautiful seaside village of Lerici. As usual the day will end in the best hotels of Forte dei
Marmi.
Saturday we'll go south to drive on the roads of the Circuito del Montenero, that hosted the Italian
Grand Prix in 1937. We will also drive on one of the most picturesque spots of the Aurelia consular
road, made famous by Vittorio Gassman driving recklessly his Lancia Aurelia B24 and constantly
attempting "il Sorpasso" (overtaking) in the 1962 Italian cult movie.
Sunday we'll cross the Apennines again to reach the finish line in Quattro Castella, by the Castle of
Bianello, where on February 28th 1077 the Holy Roman Emperor Henry IV met Pope Gregory VII to
beg his forgiveness. That evening, Gregory, Henry, and Matilda of Canossa shared communion in
the chapel inside the castle, signaling the official end of Henry's excommunication.
Terre di Canossa will be once again an exciting culinary itinerary combining the finest local wines,
traditional cuisine and the creativity of award-winning chefs, that will culminate with the
unmissable beach party in Forte dei Marmi.
Don't miss the opportunity to live this unique edition!
Register now!