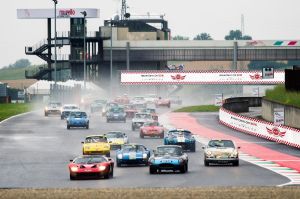 Iscrizione rapida Garedepoca
from 11 to 15 October 2020
Modena Cento Ore
Location: Roma, Firenze e Modena- Italy - Italy
Website:
www.modenacentooreclassic.it
Modena Cento Ore – 11-15 Ottobre 2020
In questo momento di difficoltà, tutti gli eventi nel mondo previsti nei prossimi mesi sono stati cancellati o posticipati a seguito dell'emergenza sanitaria legata al Covid 19. Per questo motivo, anche noi di Canossa Events abbiamo completato un piano per lo spostamento della Modena Cento Ore, che si terrà presumibilmente dall'11 al 15 di Ottobre*.
Queste date, definite anche tenendo conto degli altri eventi principali già̀ presenti o che verranno spostati all'autunno, sono da considerarsi provvisorie fino a quando non riceveremo la conferma dalla Direzione per lo Sport Automobilistico di ACI, che comprensibilmente non può̀ dare risposte fino a quando il Governo non rimuoverà̀ il divieto di praticare attività̀ sportive.
Per celebrare il 20° anniversario della gara, è stata preparata un'edizione davvero speciale, che partirà da Roma e attraverserà l'Italia da sud a nord, proponendo gare in circuito e prove speciali su in salita strada chiusa, serate esclusive e un'accoglienza a cinque stelle.
Il percorso attraverserà̀ l'Italia con tappe spettacolari e seguirà̀ un percorso panoramico in zone suggestive: colline, passi appenninici, città d'arte, laghi e piccoli borghi medioevali.
Per celebrare degnamente questo anniversario, il team di Canossa Events ha preparato un'edizione unica, che vedrà̀ gli equipaggi sfilare per quattro giorni sulle più̀ belle strade che uniscono Roma, Firenze e Modena, sfidandosi su quattro famosi circuiti: Vallelunga, Magione, Mugello e Imola.
In un mondo sempre più̀ attento all'ambiente, è con particolare piacere che la Modena Cento Ore si riconferma per il quinto anno consecutivo come l'unico evento di settore ad emissioni zero, grazie alla volontaria adozione del protocollo CarbonZero, che prevede la piantumazione di decine di nuovi alberi nell'appennino Tosco-Emiliano a completa compensazione delle emissioni residue di CO2.
Non perdere l'opportunità di vivere l'emozione di questa storica edizione!
*NB: Il programma è provvisorio e le date sono soggette ad approvazione da Aci Sport.
Modena Cento Ore – October 11th-15th 2020
In this difficult moment, due to the Covid 19 health emergency, all the events in the world in the coming months will either be cancelled or postponed. For this reason, we at Canossa Events settled the postponement of our events and the new provisional dates for Modena Cento Ore are planned for October 11th – 15th*.
These dates will remain provisional until we receive confirmation from our motorsport authority, ACI Sport. However, they are compatible with other major events being postponed to autumn. ACI Sport is holding all requests until the Italian Government releases the ban on all sporting events, which is an understandable decision.
To mark the 20th anniversary of the rally, a special edition that will be starting out in Rome and crossing Italy from south to north has been prepared. The rally will include races on the track, special stages on uphill roads closed to traffic, exclusive evening events and five-star hospitality.
The planned route crosses Italy with a non-stop schedule of spectacular stages on a very scenic route passing through charming beauty spots: rolling hills, mountain passes across the Apennines, cities of art, lakes and small medieval villages.
The Canossa Events team has prepared a truly unique event to celebrate this anniversary with four driving days on a beautiful itinerary from Rome to Florence and Modena. The crews will have the opportunity of taking part to a tough competition in four famous racetracks: Vallelunga, Magione, Mugello and Imola.
In a world that is becoming increasingly aware of environmental issues, Modena Cento Ore is particularly proud that it is still the only zero emission event of its kind for the fifth year running, as the organisers decided to implement a CarbonZero protocol and completely offset the residual emissions of CO2 by planting scores of new trees in the Tuscan-Emilian Apennines.
Don't miss the opportunity to experience the excitement of this historic edition!
* NB: This is a provisional programme and the dates are subject to approval by Aci Sport.