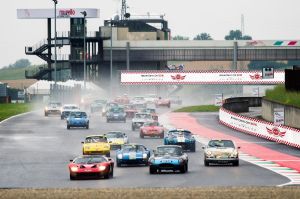 Iscrizione rapida Garedepoca
from 8 to 13 June 2021
Modena Cento Ore
Location: Roma, Firenze e Modena- Italy - Italy
Website:
www.modenacentooreclassic.it
Dall'8 al 13 Giugno 2021 – Dall'8 al 13 giugno 2021
Modena Cento Ore – 8-13 Giugno 2021
Rimini, Firenze, Forte dei Marmi, Modena - Italy
Sito internet:
www.modenacentooreclassic.it
Siamo lieti di annunciare la nuova edizione della Modena Cento Ore che si terrà dall'8 al 12 Giugno
2021, con un percorso coast to coast che attraverserà l'Italia dal mare Adriatico al Tirreno.
Il nuovo percorso partirà da Rimini per raggiungere Modena dopo 100 ore di emozione e tre gare
in pista nei mitici circuiti di Misano, Mugello e Imola, oltre a una decina di prove speciali su strade
chiuse al traffico.
Il programma prevede due pernottamenti a Rimini, uno a Firenze, uno a Forte dei Marmi e la notte
finale a Modena.
La Modena Cento Ore 2021 sarà ancora una volta un evento indimenticabile, fatto di passione,
adrenalina, stile e quell'atmosfera intima e amichevole a cui teniamo tantissimo.
Le iscrizioni sono aperte e limitate come sempre a 100 auto.
June, 8 th – 13 th 2021
Modena Cento Ore – June 8 th – 13 th 2021
Rimini, Florence, Forte dei Marmi, Modena - Italy
Website:
www.modenacentooreclassic.it
We are delighted to announce the new edition of Modena Cento Ore, that will take place from
June, 8 th to 13 th 2021 with a coast to coast itinerary crossing Italy from the Adriatic to the
Tyrrhenian Sea.
The new route will start in Rimini and reach Modena after100 exciting hours, three circuit races in
the legendary racetracks of Misano, Mugello and Imola and about ten challenging special stages
closed to traffic.
The program will include two nights in Rimini, one in Florence, one in Forte dei Marmi and the
final night in Modena.
Modena Cento Ore 2021 will be another memorable event, full of passion, adrenaline, charm and
that tight-knit and friendly atmosphere we really care about.
Applications are open and the grids will be limited as usual to 100 cars.