5th CLASSIC CARS CHALLENGE CHINA Report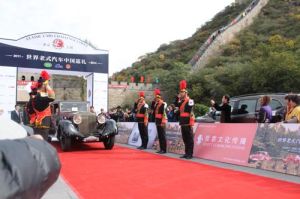 30 Novembre 2015
5th CLASSIC CARS CHALLENGE CHINA Report
In golden October when hours like a song, the world well-known CLASSIC CARS CHALLENGE CHINA (4C for short) landed in China for the fifth time. It crossed the Chinese golden hinterland between China and Shanghai and created a magnificent picture in the ancient, thriving and wonderful land of China and aroused the whole town to turn out and attracted people's attention to the vintage cars.
2015 Classic Cars Challenge China (4C) having been approved by FIVA and appearing in the 2015 FIVA Events Calendar, was co-hosted by Fédération Internationale des Véhicules Anciens (FIVA), the world recognized supreme organization of classic cars, China Association of Automotive Manufacturer(CAAM), and Classic Vehicle Union of China(CVUC), was co-hosted by FIVA, China Association of Automobile Manufactuers (CAAM) and Classic Vehicle Union Of China (CVUC), and co-organized by Sanhe Vehicle Museum and Shanghai Vehicle Museum. Yesanpo scenic spot participated in this event as strategic partner of Organizing Committee for the first time; TRUMPCHE sponsored vehicles for the event; The ninth garage provided the exclusive technical support. It is a veritable international competition of classic cars in China, and has been acknowledged in the field as the largest-scale and highest –level "automotive & culture" event in the Eastern part of the world This event gathered more than 50 classic cars from more than 20 countries including the world famous auto brands, Ferrari, Rolls Royce, Chrysler, Aston Martine, MG, Mercedes Benze, Porsche, Jaguar, Hongqi etc.
The rally started in Beijing on October 10th, 2015 and ended in Shanghai on October 17th, 2015; the journey crossed the richest part of the Chinese hinterland like Yesanpo, Shijiazhuang, Taian, Xuzhou, Yangzhou, Suzhou.
Compared to the first four editions, 2015 4C is characterized by Chinese tradition and oriental culture characteristics.
October 8th, the 4C Organizing Committee held a grand official Welcoming dinner titled by Experiencing China at Beijing Loong Plaza Hotel & Resort. Over 200 people attended including participants, distinguished guests and media friends. A wonderful and charming performance with luxury and elegance including sand painting, Tai chi show, Beijing Opera, folk music play full of tradition left a deep impression on everyone.
October 9th, all the participants joined the tourism to the Forbidden City organized by the 4C Organizing Committee, who were astonished by the splendor and majestic Chinese ancient structure.
October 10th, a magnificent opening ceremony was held in The Water of the Great Wall. At 10 a.m. with the shot firing, the 2015
CLASSIC CARS
CHALLENGE CHINA started its departure and the journey of more than 2000km. The witness at the solemn moment includes more than 160 4C participants, the world-class enthusiasts and collector of classic car and 30 guests from all walks of life and over 70 famous media from home and abroad. Our fleet arrived at picturesque Yesanpo scenic spot where a grand Collecting Ceremony and wine party titled "Impression of Sanpo" were held.
October 11th, the motorcade departed from Bailixia scenic spot of Yesanpo Hebei and carried out its Hebei tour, crossing Yesanpo scenic spot called the North Guilin, Shidu scenic spot and going around Laishui county, the hometown of Zuchongzhi (mathematician and astronomer), and arrived at Shijiazhuang , the capital of Hebei at the night.
October 12th, the motorcade departed from Shijiazhuang and headed to the famous tourism city—Taian. At dusk, when the rally arrived at the foot of Mount Tai, a delightful contrast formed between the charms of classic car and ancient Mount Tai .
October 13th, the motorcade conducted a dialogue day in Taian and had a rest and reorganization, where a tour to Dai Temple which is full of Chinese traditional characteristic was arranged for the participants. The participants experienced the broad and profound Chinese tradition and the grand battlements, towering temple, imperial palace, magnificent and diversified prospects .
October 14th, the motorcade departs from the foot of Mount Tai and headed to the well-known city of Central Plain –Xuzhou.
October 15th, the motorcade departed from Xuzhou and headed to the famous city of Jiangsu –Yangzhou which has a history of 2500 years. With the water sight and sail shadow, the motorcade covered by the green tree went along the bank of ancient Beijing-Hangzhou Grand Canal.
October 16th, the motorcade departed from Slender West Lake of Yangzhou and headed to the so-called Oriental Venice –Suzhou. With winding the Tai Lake Turtle Head Isle, the motorcade and the region of water added radiance and beauty to each other and formed a beautiful scenery picture.
October 17th, the motorcade arrived in Shanghai Vehicles Museum where a splendid Closing &Awarding ceremony was held. Wearing the garland, all the participants were extremely excited and choked up with emotions when vehicles went through the gate. Afterwards, 18 pairs of participant and units were awarded with the trophy by the Organizing Committee. At the night, the Organizing Committee conducted a grand official dinner party where all of the participants, guests from all walks of life and media attend and drink wine and enjoyed a lot. With the warm atmosphere, all people at the dinner party showed gratification of success on their face, and some of them delivered speech, sang songs and drew picture to celebrate the completeness and experience the joy of success. Lots of celebrities and industry elites from home and abroad were drawn to participate in this event, including York Prince of Schaumbung, Mr Joris Bergsma, founding president of PreWarCar.com, Mr. David Thomas, former chairman of the Classic Car Club of Singapore, Mr. Douglas Fox, secretary-general of the Classic Car Club of Singapore, Mr. Shi Jianhua, vice secretary-general of CAAM, Mr. Li Sijian, Shanghai Auto Museum Chief Curator, Mr. Chen Lehang, Director of Harley team in Guangdong Club, Director of Guangdong Harry Icomotive Collect Basic Information, Mr. Deng Hongjun, Professor of Pan Wuhan International medical cosmetic aesthetic plastic surgery (guangzhou) headquarters, director of Hong Kong Pan Wuhan Medical Hairdressing Education Institute, Mr. Lin Jun'an, director of Meissen Couture Shanghai Villa, Mr. Zhou Feng, the Vice County Chief of Laishui Hebei, Mr. Li Yongsheng, tourism minister of Laishui county, Qubaojun, vice director of Yasanpo Management Committee, Laishui, Mr. AnShui, General Manager of LaishuiAnShui Construction Engineering Co., Ltd, Mr. Qin Lifeng,Market Manager of Shandong Beitaihe Pottery Co., Ltd., Mr. Yang Lidong, general Manager of Beijing KLB Trade co., Ltd., Mr. Zong Guian, executive President of CLASSIC VEHICLE UNION OF CHINA (CVUC), 4C Organizing Committee Secretary, Mr. Baiguang,Chinese famous classic car collector, vice president of CVUC, Mr.Hou Xiaoming, Chinese famous classic car collector, vice president of CVUC, Mr. Huang Zongmin, chairman of Sanwa group and Chinese famous collector of classic car, who helped to modify the route and came back to China from abroad to participate in the last-half part of the event. This event drew many domestic and foreign major media to participate entirely in this event, including ten world well-known automobile media and the domestic top-ranking automobile, trend and financial and economic media who gave highlight report about the event. According to statistics, more than 200 media have reported this rally and the total number of reports exceeds 3000. The number of the media who involved in this event and the report about this event set a new record and re-create a great individual event. More than ten media tracked and covered the rally, such as Beijing TV Station, Guangzhou Broadcasting Network, Car-fan Channel, Ramp, Motor Trend, Orient Auto, Automobile Consumption eport, Car & Fan, Size Trend Life, Auto News, Auto Home, Car Owners, Apex Manual, Bit Auto, Youku, Emao Auto, CarXoo. Over than four hundreds domestic and foreign mainstream media involved in the report including CNN STYLE, BTV AUTO, Travel Channel, Shanghai Hotline-Auto Channel, Super Power, Auto Sohu, Auto Letv,KU6,Auto Tencent, FBlife, China Auto Pictorial, Feelcars, Forbes, Yu Magazine, Robb Report, China Luxus, Gloabal Times-Auto magazine, CCTV, Auto reviews, China Weather Service, China News, China Daily, China youth online, Hexun Finance, Xinhua News, etc.In the meantime, new media communication such as Wechat, MicroBlog and Post Bar are used by the Organizing Committee, by which the dissemination efficiency and effect achieved an ever great success.
4C produced a strong echo throughout China, especially in the cities along the route. Approximately 3,000,000 people came across the rally or went to see it. Media broadcast reached more than 40,000,000 people. 4C sparked the enthusiasm of all Chinese car lovers, thus making a huge contribution to popularizing the classic car culture and building a brand of comprehensive automotive events; this athering of vintage vehicles was a mighty wave that pushed the development of Chinese classic car culture to a new level Luxury needs no artificiality, passion burns out naturally. Classic Cars Challenge China which have caused a sensation in China for five years are becoming mature gradually. The world-class vintage cars event with the extreme passion and glory, co-created by competitors, media, partners and Organizing Committee, is causing an effect on the auto culture development of China. We do believe that the grand auto culture banquet combined with luxury and trend, passion and glory will land in China again in 2016.

Commenta la news